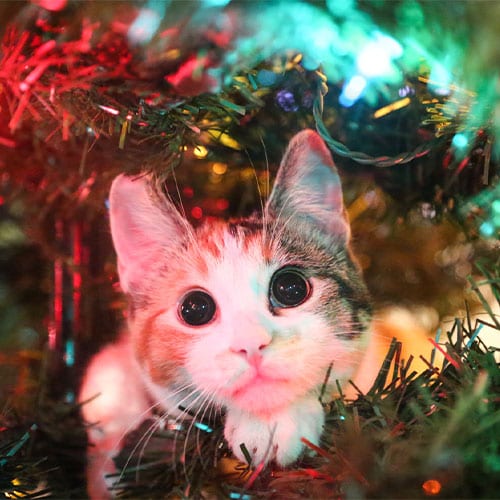 Prevent a Pet Emergency with These Holiday Safety Tips
Your pet's health and safety are important to you, but it's easy to lose sight of your priorities when the hectic holidays arrive. From gift shopping to decorating, there's always so much to do! That's why our animal hospital has put together a helpful list of holiday pet safety tips to make your holiday planning a little easier. While snow is not a problem here in Texas, there are plenty of other dangers (big and small) that can spell trouble for your pet.
The holidays wouldn't feel the same without decorations. When you do begin to deck the halls, be mindful of what items you're setting out, the cords you're using, and where everything is going. Make sure to:
Keep electrical cords, wires, and light strands up high and out of your pet's reach
Avoid leaving bowls of candy and chocolate where your pet can easily get to them
Place tinsel, small ornaments, and window decals where they aren't liable to fall and make enticing chew toys for your pet
Use candles with artificial flames if your pet is prone to knocking things over or getting a little too curious
Keep the water in your tree stand covered so your pet can't drink from it
Forego the mistletoe — this plant is highly poisonous
Jerusalem cherry is not as common but this plant can also be very dangerous for pets
Avoid using tea tree, cinnamon, citrus, pine, wintergreen, and sweet birch essential oils in your home
Food is often one of the best things about the holidays. Whether you're doing all the cooking or your family is having more of a potluck, remember that these foods can be harmful if your pet ingests them:
Chocolate is an obvious no-no, but baker's chocolate and cocoa powder are especially dangerous
Garlic, onions, leeks, shallots, scallions, chives, etc.
Assorted nuts can be a problem, especially if they include macadamia nuts, cashews, walnuts, almonds, and pistachios
Meat bones of any kind; they can cause internal injury, choking, and bowel obstruction if swallowed
Grapes, currants, and raisins can cause kidney failure in dogs and cats
Caffeine and alcohol of any kind — beer, wine, hard liquor, malt beverages, etc.
Baked goods and other sweets that contain xylitol, a sugar substitute
Did Your Pet Eat Something They Shouldn't Have?
You can contact us anytime at (817) 410-2273 if your pet ate something toxic or is showing signs of illness. Emergencies come in many forms, so don't hesitate to seek help! We're available 24 hours a day, seven days a week to assist you.